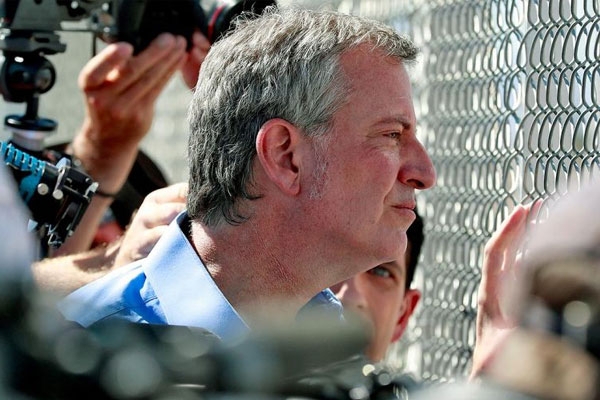 (Image source from: Fox News)
Mayor of New York City Bill de Blasio and his security detail profaned both Mexican and United States immigration laws by crossing the border on foot during a visit near El Paso, Texas, as alleged by U.S. Customs and Border Protection in a letter obtained by The Associated Press.
However, the mayor's office flatly contradicted the accusation.
De Blasio with about 20 else mayors around the city visited Texas border on June 21, a day after U.S. President Donald Trump signed an executive order halting gamily separation policy at the border. De Blasio is a fierce critic of the Trump administration's immigration policies.
More than 2,300 families were separated as an outcome of the administration's zero-tolerance policy, which criminally prosecutes anyone caught crossing illicitly. The mayors said Trump had failed to address a humanitarian crisis of his own making.
De Blasio went to a holding facility for immigrant children but was denied entry. He then went to Mexico and crossed into the U.S. to acquire a view of the facility. The New York Police Department runs de Blasio's security detail.
According to the letter, a uniformed Border Patrol agent noticed a group on the Rio Grande River floodplain south of the Tornillo, Texas, Port of Entry, taking photographs of the holding facility. The agent asked if anyone from Border Patrol or public affairs was there to authorize their being. A New York Police Department inspector said no, according to the letter, and when the agent asked the group how they arrived, they pointed to Mexico.
Then subsequently agent asked them to stay while he gets a supervisor and takes them for an inspection per federal law to the official crossing, according to letter. But the group drove back to Mexico irrespective of order.
De Blasio spokesman Eric Phillips said the group did nothing illegal and had the approval to be there. "The mayor crossed the border with the direct approval and under the supervision of the border patrol supervisor at this port of entry," Phillips said in an email Tuesday night to the AP. "Any suggestion otherwise is a flat-out lie and an obvious attempt by someone to attack the Mayor because of his advocacy for families being ripped apart at the border by the Trump Administration."
The letter was directed to James O'Neil on June 25 by Chief Aaron Hull, Border Patrol El Paso Sector.
By Sowmya Sangam