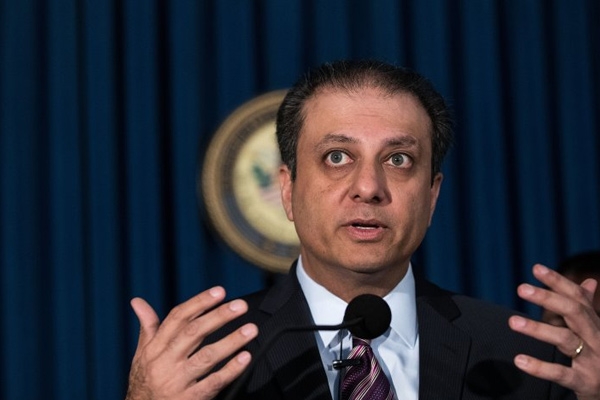 Former top federal prosecutor, Preet Bharara said that he is very proud of his Indian heritage, which made him more compassionate and tolerant towards others.
Bharara was fired by President Trump as U.S. Attorney for the Southern District of New York after he refused to quit his position. Bharara is now a distinguished scholar in residence at New York University's School of Law, where he continues to work on issue like criminal and social justice honest government, national security, and corporate accountability.
During a conversation last week with New York University's School of Law Dean Trevor Morrison in New York, Bharara said: "I am an American, I happen to be an Indian-American. I am very proud of my background, my roots and my heritage. I am a huge Springsteen fan ... but I also listen to Bhangra music, which is a kind of Punjabi music."
When asked about how his heritage and background has shaped his personal and professional life, Bharara said that he comes from a multi-cultural background and his children know both the "Indian heritage and also about being an American."
He said that people always asked him whether being of Indian heritage and a member of minority group made him much more compassionate and tolerant towards other people.
"I say I suppose it does. But what has mattered more to how I think about things is not the fact that I am an Indian-American but that I am an immigrant," he said, adding that he and his family are grateful to what America has given them.
He recalled how his family came to the United States with nothing and now 40 years later his son became the chief federal enforcement officer in the financial capital of the world.
"The first Indian-American U.S. attorney appointed by the first African-American President. That is not a small thing in the minds of some people... So I began to appreciate that," he said.
Indian-Israel share similar Culture: Nikki Haley
AMandeep