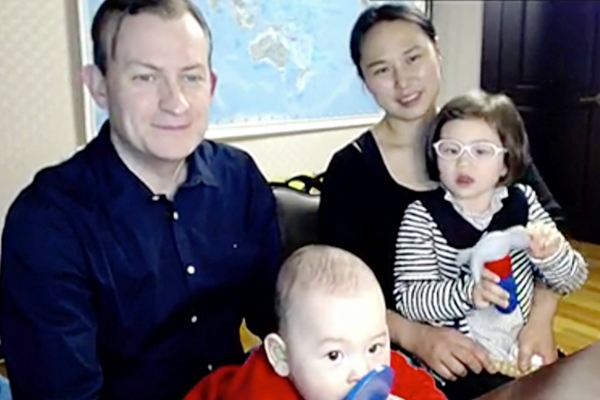 The mortified father who was upstaged by his two young children said a "comedy of errors" turned a live TV interview into a hilarious epic fail.
The clip has gone viral on social media, in which East Asian expert 44-year-old Robert Kelly, was on Skype call with the BBC to discuss the impeachment of South Korea's president.
The interview turned into a cute comedy gold, when his 4-year-old daughter Marion and then his 8 months son, James, burst into the unlocked room, as Kelly struggled to maintain his composure.
His wife, Kim Jung-A, then came in to the room to grab their kids, by trying to avoid being caught on camera.
"Oww, Mommy!" Marion screamed.
Kelly squirmed apologetically during the episode in his apartment in Busan, South Korea.
Kelly told the Wall Street Journal, "If you watch the tape, I was sort of struggling to keep my own laughs down. They're little kids and that's how things are."
"Yes, I was mortified, but I also want my kids to feel comfortable coming to me," he said. "I made this minor mistake that turned my family into YouTube stars. It's pretty ridiculous."
When Kelly began the interview, his family was in the living room to watch his television appearance. His wife was taking a video on her phone.
After spotting her father on television, Marion jumped up gleefully and headed to see him in person, still in high spirits after her birthday party at kindergarten on the same day.
Marion's little brother, James followed in his baby walker, while Kim was struck on shooting the video footage.
"As soon as she opened the door, I saw her image on my screen. She was in a hippity-hoppity mood that day because of the school party," said Kelly, who is an associate professor of political science at Pusan National University in South Korea.
"There's a first time for everything. I think you've got some children who need you," said the bemused broadcaster, James Menendez.
The video has gone viral in social media platforms and has been viewed over 84 million times as of Tuesday morning.
Bill bans minors to get married
AMandeep