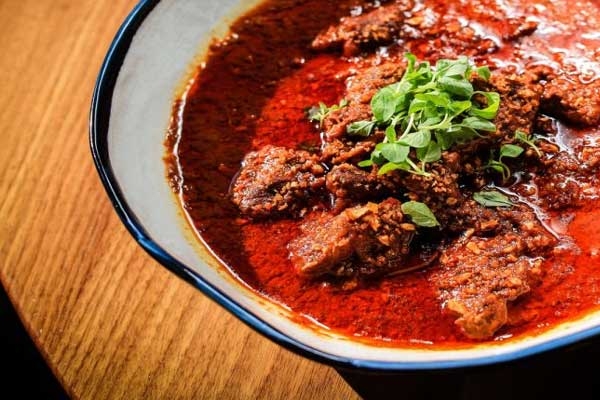 (Image source from: CNBC TV18)
'Adda Indian Canteen,' a small homely place in an industrial neighborhood in New York has become the culinary world's favorite with palatable Indian cuisine by chef Chintan Pandya.

Adda, meaning "a place where people hangout," is run by Roni Mazumdar and Executive chef Chintan.

The dishes which are drawing the crowds in include Masaledar Lipatwan Chicken, Tawa Kaleji, Bheja Fry, Tandoori Macchi, Tandoori Poussin, Rara Gosht, Junglee Maas and Lucknowi Dum Biryani. There are also vegetarian offerings like Lotus Root Koftas, Bismal Saag and home-made Paneer khurchan.

By evoking hints of their own nostalgia, Chef Chintan and Roni have created traditional dishes the way they are meant to be cooked with a variety of herbs and spices made in-house while staying true to India.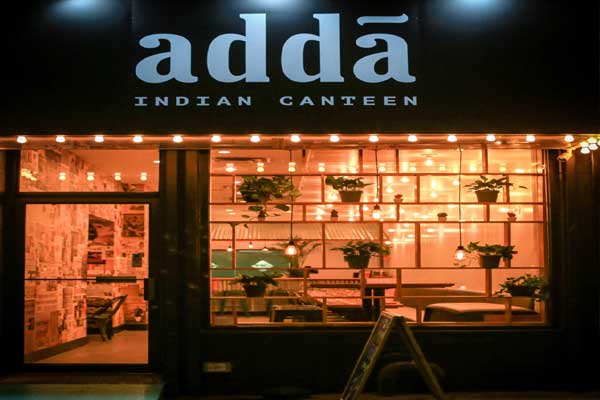 Image source: cnbctv18
According to a composition in CNBC TV18, there are no fancy airs, no modernist pretensions, no dramatics in the menu but just regular food that regular Indians eat at home. Adda's mantra is 'Unapologetically Authentic' and spice is truly the spice of life.

Born in Ahmedabad and grew up in Mumbai, Chintan got to eat many different foods at the homes of school friends, and that is where he got his lessons in how pan-India actually eats.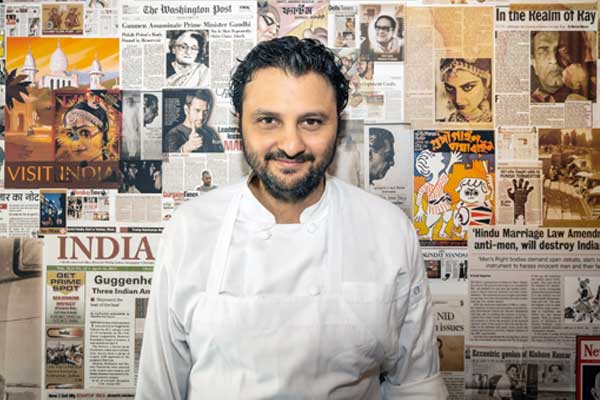 Image source: cnbctv18
He recalls, "We never cooked meat at home but I had lots of friends from Maharashtrian and Muslim households and I got exposed to dishes such as Tawa Kaleji and Bheja Masala. People in New York think these are a delicacy here but it was never a delicacy in our country. We used to eat every part of the meat -  the meat was always on the bone and even here we don't do it boneless. All our four non-vegetarian kebabs are on the bone, as in Delhi."

He was trained under many Oberoi Hotels from Mumbai to Kolkata to Jaipur and Delhi and in varied cities across India experiencing the way local people ate. He went to the United States after working in a restaurant in Singapore and worked in Cleveland and Atlanta before Junoon in New York for a year.

Though he has been in New York City only about two and a half years but observes: "This city has every kind of food but no one has concentrated on home-style food. You don't eat Navratan Korma every day at home, you don't eat Chicken Tikka Masala at home every day but you do make a lamb curry at home every day - one household could make a Punjabi lamb curry while another would make Hyderabadi lamb curry."

He recalls that when Adda opened, people questioned that why there was no Vindaloo and Chicken Tikka Masala but they have stayed away from commercialized dishes. He says: "People accept you when there is honesty in your food. It's not a mishmash." Whereas most Indian restaurants alter the spice level in deference to the customer, Adda does not. Pandya says, "If your mother made a lamb curry at home, did she make one spice level for you and another spice level for your brother? There was only one lamb curry made at home and everyone ate that. Spice is a very subjective matter. We are unapologetic about our Indian food."

The chef also believes in utilizing local products such as kale in the traditional Pakoras.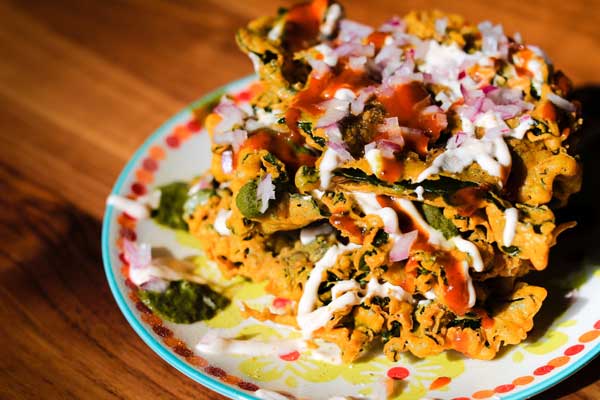 Image source: cnbctv18
Roni Mazumdar and Chintan Pandya are planning a third restaurant shortly but each time they plan to explore different spectrums of Indian food, and sometime in the future, they also hope to do a specialized seafood restaurant.

Pandya, who is frustrated by the fact that many people identify Indian food with just Chicken Tikka Masala, says: "My dream is in ten years to get Indian food on the map where people respect and honor it the way it should be."

-Sowmya Sangam